Women's rights have been a hypervisible feature of the development of the modern state in the GCC. For example, women's mobility and access to work in desegregated settings in Saudi Arabia are an important and highly publicized part of its recent economic and political reform efforts. In the UAE, the Gender Balance Council was established to design policies that support women's empowerment in coordination with the OECD and UN. How do these top-down empowerment initiatives influence the day-to-day lives of women and men in the GCC? What kinds of femininities and masculinities are reshaped and negotiated in response to these programs? How do the practices and discourses of "state feminism" and "global competitiveness" simultaneously strengthen and obscure important aspects of gender equality?
In Making Women Matter, we investigate how national level policies influence women's career paths in the GCC. We explore how women's entry into the labor market involves navigating a variety of discourses about gender, class, religion, ethnicity, citizenship, and other context specific intersectional identities. We also unpack how and why women's employment became a feature of the state's ability to signal modernity and competitiveness in the global arena.
Federal Authority for Government Human Resources (FAHR)
Dubai, January 9, 2019
At FAHR, the government entity that monitors the composition of the federal government workforce, students engaged in a lively conversation with H.E. Aisha Khalifa Al Suwaidi. H.E Al Suwaidi shared with the class some of her authority's efforts to ensure gender balance across federal entities, as well as information on the current gendered makeup of federal employees by sector.
Dubai, January 9
After gaining a bird's-eye view of women's work—from reading sociological texts on elites, policy reports, and visiting the Federal Authority for Government Human Resources—the class transitioned from statistics to the home studio of Daneh Bouahmed, a Dubai-based Saudi designer. Daneh generously shared with us her home and work, as well as stories of her relocations and career shifts.
Dubai Women Establishment
Dubai, January 10, 2019
H.E. Shamsa Saleh spoke to our class and other invited guests about the work she and the establishment have done to improve gender balance in and beyond Dubai. Students learned about the trajectory of Dubai Women Establishment's statistics-recording, the difference between gender equality (defined as same treatment for men and women) and gender balance (defined as same opportunities for men and women), and notions of institutional constraint and agency are translated into policy action around women's work.
Abu Dhabi, January 13, 2019
Our visit to the General Women's Union—a federal body, founded in 1975, documenting and promoting women's empowerment and entrepreneurship in the UAE—allowed students to witness forms of state feminism in action. The visit's highlights included understanding the relationship between the Union and the United Nations, the role that handicrafts play not as preservations of traditional activities but as modern work representing the nation, and learning more about the Union's promotion of women in information technology.
Video Call, Riyadh-Abu Dhabi, January 14, 2019
The class had a chance to discuss how women's mobility features large in discourses around women's work in the GCC and particularly Saudi Arabia with Jawaher Al Sudairy, Director of the recently created Center for Research at Al Nahda Foundation. Some of the questions discussed are: What are some of the main ways by which women travel to work? What forms of transportation are most affordable and accessible?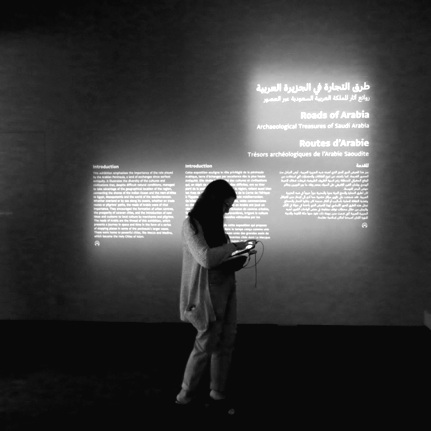 Roads of Arabia: Archaeological Treasures of Saudi Arabia
Louvre Abu Dhabi, January 15, 2019
Touring the Roads of Arabia provided grounds for class discussion of both the exhibition's content and curation. The class discussed how presentation matters, how scripts are followed and discourses carried, and how geopolitical power features in the construction of "truths." Emerging from an exhibit that brings the viewer from "prehistory" to "modern day," we strove to re-consider the meaning of the tradition-to-modernity script.
Sharjah Architecture Triennal, Sharjah Art Foundation, January 16, 2019
Visiting Sharjah and meeting with Mahnaz Fancy, Senior Program Officer at Sharjah Architecture Triennial, students had the chance to critically engage with the UAE's built environment. Guided by Fancy on a walking tour through Shansasiyah Souq, we grappled with politics of representation and visibility, and what and who are the historical and authentic residents of the emirate. In particular, we questioned our conceptions of space, asking 'what can we gain by recognizing power in global political relations?'
We also questioned the temporality of modernity, asking 'how can we understand the spaces we inhabit differently by shifting the temporal frame of history?'
Dubai, January 17, 2019
At Jameel Arts Centre the class took a tour of a series of women artists' curated rooms, and of the inaugural exhibition Crude, which takes oil as an entrance into the complex histories of social and economic interconnections within and beyond the GCC. After moving through the physical spaces of each installation, we shared a meal and conversation with Art Jameel staff, Rana Al-Mutawa, and Shamma Al Bastaki. Al-Mutawa, who studies conceptions of public spaces and authenticity in urban Dubai, led the class to think critically about how we come to feel a space as public or authentic. Al Bastaki, a recent NYU Abu Dhabi alumna, recited experimental poetry she created from interviews with Dubai Creek residents, elaborating on her creative and analytical process, and the notion of multiple "truths."
Al-Qasimi Foundation for Policy Research
Class Visit, Abu Dhabi, January 20, 2019
Turning to the ways in which boys and men are implicated in policy discourses and practices often focused on women's empowerment and work, we received Natasha Ridge, Executive Director of Sheikh Saud Bin Saqr Al Qasimi Foundation for Policy Research, in our classroom. Dr. Ridge spoke to us about what she sees as the "other side" of striving for modernity through women's empowerment—for example, the issues boys face in primary and secondary schooling, particularly in the case she knows, Ras Al Khaimah—and insight into the shortcomings of public education especially for lower class Emiratis, particularly boys. Her visit was helpful for thinking through gender as relational, and for unpacking the complexity of educational or workforce statistics.